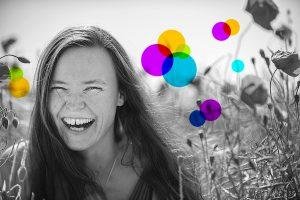 I am a creative channel & designer, intuitive transformation guide, courage nurturer, cosmic dancer and multidimensional traveller but mostly a curious explorer of life on Earth.

Intuitive Artist
I revalued my doodling and discovered something magical: the creative language of my soul guidance that I call Channeled Drawing. Now I use drawing (as well as sound) as a medium for soul guidance and healing for myself and others and keep being amazed by all the magic of this creative transformation process.
Brand Designer
I have a graduate degree in Communication Design from the Muthesius Academy of Art and Design in Kiel, Germany. I have over 15 years experience in designing brands as well as print & online communication media. At one time I was actually the head corporate designer of the International Trade Centre, a UN Organization in Geneva, Switzerland. For a short time I was the art director and brand designer of a start-up German Magazine called "ENTRY" – focusing on personal development.

Transformer
For 2 years I've lived in Plum Village – a Vietnamese Buddhist Monastery in France – studying Buddhist Psychology and practicing the Art of Mindfulness in the spiritual community of Zen-Master Venerable Thich Nhat Hanh. Feeling so blessed.
In 2013 I've graduated from the Barbara Brennan School of Healing in 2013 (fondly called Hogwarts by some of its students) – a 4 year multidimensional hands-on energy healing & deep personal transformation program working with the Human & Universal Energy Fields through the refinement of high sense perception and psycho-spiritual development skills and a lot of personal process. Probably my most intense transformation journey so far.
Lover
I love seeing and bringing out peoples uniqueness and inner beauty and then translating it visually. I get ecstatic when things perfectly align from the inside out.
I also love seeing faces and objects in patterns, following signs and magical connections. I love getting to the bottom of things. I also absolutely adore maps!
I love exploring new techie star trek things and creating new ways of connection (physically, virtually and energetically ;)
Traveller
I call myself a global citizen and feel in my element traveling and exploring nature and ancient cultures. I've lived in the US, France, Russia, Switzerland, and my travels have brought me to far off places like Siberia and Hawai'i. (And the truth is: my home is in the stars. ;)
I am totally in love with Hawai'i offering an abundance of what I love most from flowers, ecstatic colors, water, mountains, ancient wisdom, heart community, whales & dolphins, sunshine and clear stary skies!!!!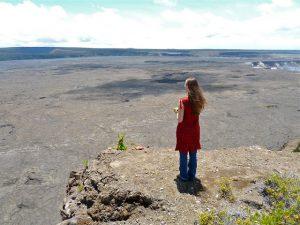 Here at Kilauea Volcano on the Big Island of Hawai'i I  paid my respect to Madame Pele – another Goddess of life-force and creation!
However I was born behind the wall in East Germany in the beautiful town of Dresden. I was a teenager when the Wall came down – an revolutionary experience I will forever remember. I loved hiking and rock climbing in the breathtaking beautiful sandstone mountains of the Elbsandstein Gebirge. (I am glad it didn't take my breath away!)
Eros & Phantasos
One of my first jobs after graduating high-school was applying pure gold to the 2 huge angel bronze sculptures named Phantasos and Eros on top of the Art Academy in Dresden. Phatasos being the god of dreams and Eros the god of love & sensual life-force. I love the significance of those 2 forces in my life from early on. I've learnt to restore old beauty and put on gold onto other ancient things in my first attempting career as a restorer.
Creative Flow
I love music and free flow dancing (soul motion, 5-rhythm, ecstatic dance), singing and sounding as all things playful, self-expressive, co-creative and supernatural.
I've been practicing Chi Gong and Tai Chi for about 20 years as it really helps me to slow down, feel aligned, energized and connected to the flow of life in and around my body.
Merken
Merken
Merken
Merken
Merken
Merken