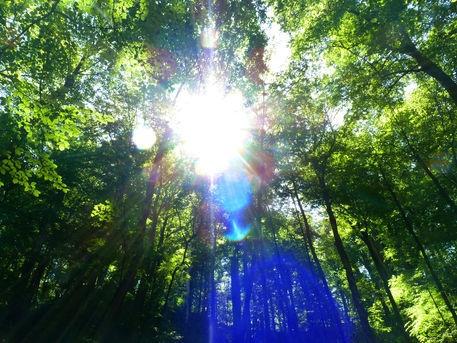 Clear your path to essential well-being. 
I am a graduate of the world renowned Barbara Brennan School of Healing Europe which was founded by Dr. Barbara Ann Brennan a former NASA physicist and world-known spiritual leader, healer and educator and author of the best-selling books: "Hands of Light" and "Light Emerging".
A pioneer and innovator in the field of energy consciousness Dr. Barbara Brennan has been researching and exploring the Human Energy Field for more than 35 years. Her work has resulted in the development of Brennan Healing Science® (BHS®) —a holistic complimentary healing modality based on the Human Energy-Consciousness System and its relationship to health and disease. This work combines Spiritual Psychology, High Sense Perception skills and hands-on energy healing techniques to assist individuals with their personal process of healing. It touches every aspect of a person's life to improve the quality of life.
As a BHS® practitioner I offer a sacred space and my presence to assist individuals to get in touch with themselves on a deep personal level to be with their presenting issue. In the healing I intuitively tune into the energy flow using different techniques to connect with my client's specific system and if needed to clear, charge and balance the human energy field so that blocks of stagnant energy may be released and distortions that cause imbalance in the client's energy system be repaired which may have already resulted in health problems in the physical body. Working with the consciousness and energy field in that way effects the client's physical, emotional, mental and spiritual well-being. During the sessions clients may experience more clarity, emotional release and/or physical release of tension and illness.
Brennan Healing work can assist you to
Balance, clear, charge and repair your energy field

Support and accelarate your natural healing process

Promote physical, mental, emotional and spiritual healing of many disease conditions and life challenges

Restore a sense of well-being and emotional stability

Learn your unique life purpose

Align your intention and your ability to accomplish life goals

Establish a deeper connection with yourself, your inner spiritual guidance and manifest your heart's true longings

Clear and strengthen mental capabilities and high sense perception

Master the creative manifestation process through the 4 dimensions of the Human Energy field: originating from your core essence (Divine Core Star) through your intentionality (Hara) and personality (Aura) into the physical world.
Read more about how a Healing Session looks like and works
here.
Is Brennan Healing like Reiki or what is the difference?
Find out in this article 
here
.
To get more information about
Barbara Healing Science in German
language:
If you're interested in working with me please contact me here.
I am working locally with clients in Hamburg, Germany and long distance internationally via skype or phone. Sessions are 1-1.5 h. To set up an appointment contact me via email or call me +49.160.97646964.
---
Additional to my Brennan Healing Science education I have studied with the world known and respected Zen Master Venerable Thich Nhat Hanh while living in his practice community Plum Village in Southern France for about 2 years studying Buddhist Psychology and Mindfulness Meditation practices. In 2003 I was ordained to the international Order of Interbeing, dedicated to practice, teaching and embodiment of mindfulness in daily life.
---
I am highly intuitive and attuned with the subtle energies in different dimensions which I can access for guidance and healing. I use sound and drawing to channel creative healing codes that help align people with their soul purpose, activate dormant potential which is encoded in the DNA. I channel my inner shamaness and have received a number of direct energy transmissions from spirit guides, spiritual teachers and Reiki masters prior to my Brennan Energy Healers training.
I am in awe of the stars and all life forms in all creative universes and dedicated to reconnect more fully through my Sacred Human Heart. I am dedicated to assisting Gaia in the birthing process of a New Earth through my very own healing, deepening my connection to the Divine and supporting others on their personal healing path.
Für Dein Essentielles Wohlergehen
Brennan-Healing-Science® ist eine sanfte und kraftvolle energetische Methode, die mittels eines komplexen Systems von rund 60 verschiedenen, spezifischen Arbeitstechniken den Menschen darin unterstützt, sein größtmögliches Potential an Glück, Lebensfreude und Gesundheit zu verwirklichen.
Entwickelt wurde Brennan-Healing-Science von der US-amerikanischen Physikerin und Therapeutin Dr. Barbara Brennan, die sich nach ihrer Karriere bei der NASA mit dem Bewusstseinsfeld (Energiefeld) des Menschen befasste. Ihre Erkenntnisse hat sie in den Bestsellern "Hands of Light" (Licht-Arbeit: Heilen mit Energiefeldern) und "Light Emerging" (Licht-Heilung: Der Prozeß der Genesung auf allen Ebenen von Körper, Gefühl und Geist) eingehend beschrieben und seit 1982 an der von ihr begründeten internationalen Barbara Brennan School of Healing in einer 4 jährigen Ausbildung unterrichtet.
In die Arbeit am Energiefeld fließen neben psychologischen und meditativen Aspekten Ansätze aus der Bioenergetik Alexander Loewens ein, sowie Elemente aus der Core-Energetics und "Pfadarbeit" von Eva und John Pierrakos.
Brennan-Healing-Science lässt sich beschreiben als körperorientierte, psychospirituelle Bewusstseinsarbeit, die zum Ziel hat, Gesundheit zu erhalten, Persönlichkeitswachstum und spirituellen Entwicklung zu fördern.
Brennan-Healing-Science versteht sich nicht als Ersatz, sondern als komplementärmedizinische Methode und wird angewandt in Zusammenarbeit mit Ärzten, Psychotherapeuten, Lebensberatern, Homöopathen, Hebammen, Physiotherapeuten:
zum Ausgleich und zur Bewältigung von Stress durch berufliche oder familiäre Belastungen und Lebenskrisen, z.B. nach Trennung, Arbeitslosigkeit …
als energetische Behandlung und Begleitung von Menschen mit Abhängigkeit, Burn-Out, psychosomatischen Erkrankungen
in der energetischen Begleitung bei körperlichen Erkrankungen, medizinischer operativer Eingriffe (begleitende Vor- und Nachbehandlung), Begleitung Sterbender sowie bei der Aufarbeitung von Katastrophen
Brennan-Healing-Science wird eingesetzt zur Stärkung der Beziehungsfähigkeit, Teamfähigkeit, Führungskompetenz, sowie bei der Schaffung klar ausgerichteter Ziele/Intentionen im persönlichen und beruflichem Bereich
zur Stärkung der Achtsamkeit, Liebesfähigkeit, des Selbstbewusstseins und Stärkung des Kontakts zur inneren Führung sowie der Wahrnehmung der Stimme des Herzens
Mentales Training und Klarheit sowie Sensibilisierung der Wahrnehmung und Stärkung der Intuition
Ist Brennan Healing sowas wie Reiki oder was ist der Unterschied?
Hier
 erfahren Sie mehr (Artikel in Englisch).
Mehr Informationen zu
 Barbara Healing Science
:
Ich arbeite sowohl vor Ort persönlich mit Klienten in Hamburg und gebe auch Fernbehandlungen via skype oder Telefon. Eine Behandlung dauert ca. 60 -90 min.
Um eine Sitzung zu vereinbahren, kontaktieren Sie mich hier per email oder telefonisch unter 040-33368241.
---
Vor meiner Brennan Healing Science Ausbildung war ich Schülerin des weltbekannten Zen Meisters Venerable Thich Nhat Hanh und lebte für 2 Jahre in seiner Praxisgemeinschaft Plum Village im Süden Frankreichs. Dort studierte ich Buddhistische Psychologie und erlernte die meditative Achtsamkeitspraxis, leitete Gruppen und Kinderprogramme an. Seit 2003 bin ich ordiniertes Mitglied des internationalen "Inter-Sein" Ordens, der sich zum Ziel gesetzt hat, die Achtsamkeitsmeditation weltweit im Alltag zu praktizieren, anderen zu lehren und Achtsamkeit im täglichen Leben zu verkörpern.
---
Schon seit meiner Kindheit habe ich eine besondere sensible Herz-Beziehung zur Schönheit der Natur und des Kosmos. Durch meine ausgeprägte Intuition bin ich auf feinstoffliche Energien sensibilisiert und kommuniziere mit der Natur und anderen kosmischen Dimensionen, um Rat, Halt und Inspiration zu erfahren. Spielerisch habe ich entdeckt, wie ich durch Töne und intuitive Melodien sowie durch das automatische Zeichnen und Schreiben, Kontakt mit meiner eigenen und anderen Seelen sowie Wesenheiten in anderen Dimensionen herzustellen kann. Über viele Jahre habe ich eine Anzahl an energetischen Übertragungen von verschiednen spirituellen Lehrern, Schamanen erhalten.
Ich bewundere die Schönheit des Kosmos und fühle mich unter klaren Sternenhimmel zu Hause. Ich habe vor allen Formen des Lebens tiefen Respekt und Anerkennung und sehne mich danach, in meinem menschlichen Dasein mehr Kontakt mit dem Leben in mir und in Beziehung mit anderen um mich durch meine wachsende Präsenz im Herzen zu erfahren. Ich bin hier, um mit Hilfe meiner Kreativität meine kosmische Essenz zu verkörpern und auf der Erde zu verankern und durch meine eigene persönliche Transformationsarbeit, den Geburtsprozess einer Neuen Erde zu unterstützen, und anderen dabei zu assistieren, dem Ruf ihres Herzens zu folgen und in ihrer essentiellen Schönheit zu erblühen und gesehen zu werden.