CHANNELED DRAWING GUIDANCE
Receive A Personal Channeled Drawing For Your Creative Guidance
Unraveling the Magic of Doodling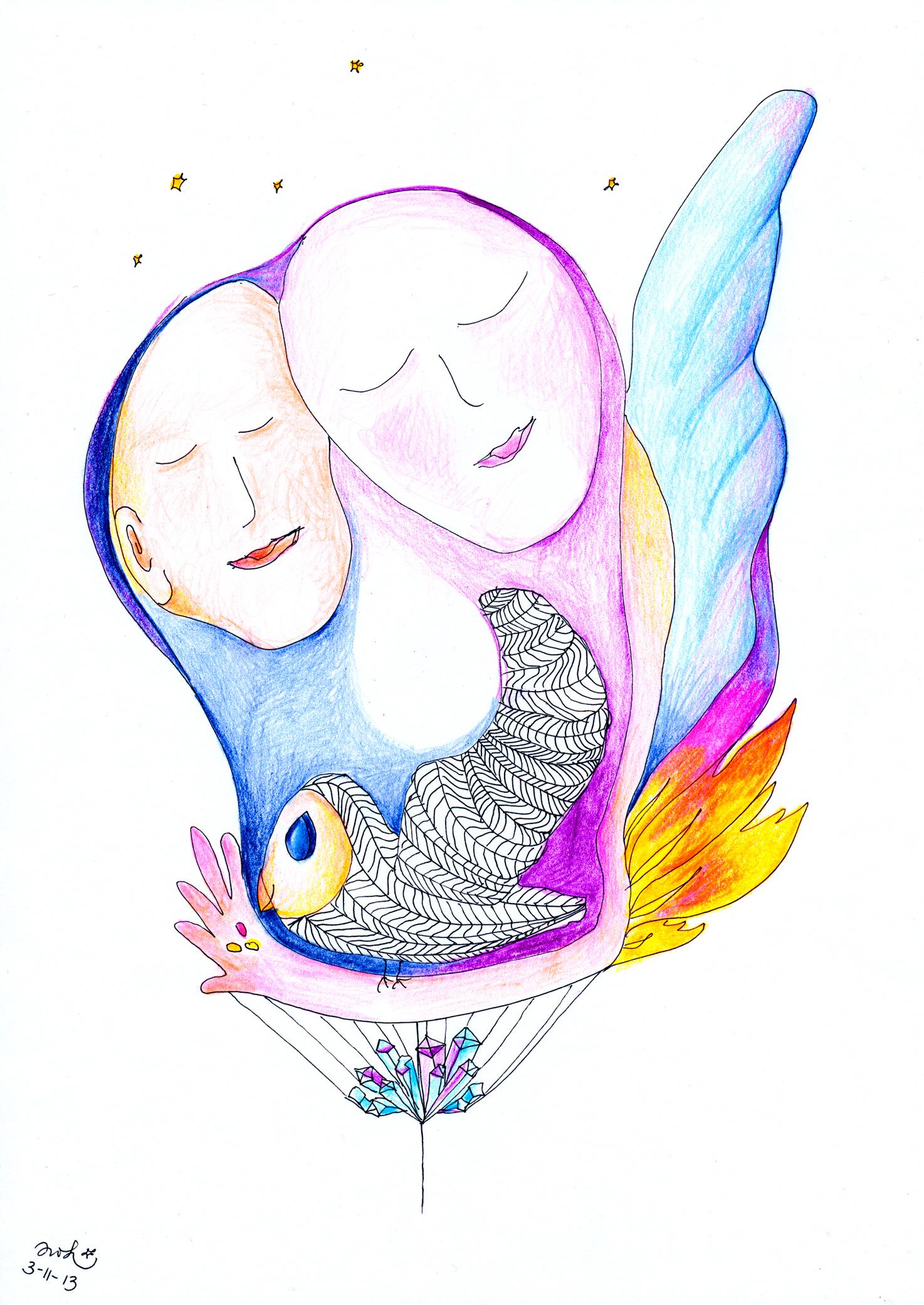 I've discovered that freely doodling with no agenda along seminars and conversations brought to light interesting creatures and line patterns that caught my attention – being weird and magic at the same time – fascinating just like dreams revealing aspects of the unconscious or soul.
In 2012 – out of curiosity – I committed to experiment with intuitive drawing – becoming a channel and letting the pen move freely as I intentionally tune into my own or another's energy opening to witness what wants to manifest itself on the paper. Since then this experiment has evolved into offering soul readings and facilitating creative channeling workshops. I am continuously amazed by what reveals itself through this creative practice, I'm beginning to see my own creations as divine manifestations.
Channeled Drawing is a great creative tool to become more aware of our habitual judgments that stop the creative flow in our life and instead playfully learn to dance with our inner critique, letting go of concepts in order to co-create something surprising and new that the mind alone couldn't have thought of before.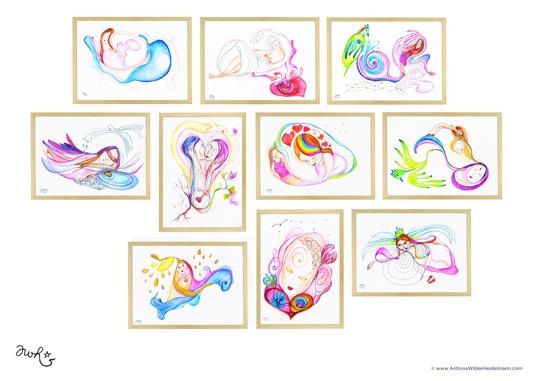 Learning to recognize and uncode the soul's unique visual language has become a fun way of accessing inner guidance, enabling me to seeing more of my soul's essence and that of others and recognizing the very things we put in our way to nurture, shine and live our full creative potential.
Read more about my discovery of Channeled Drawing here.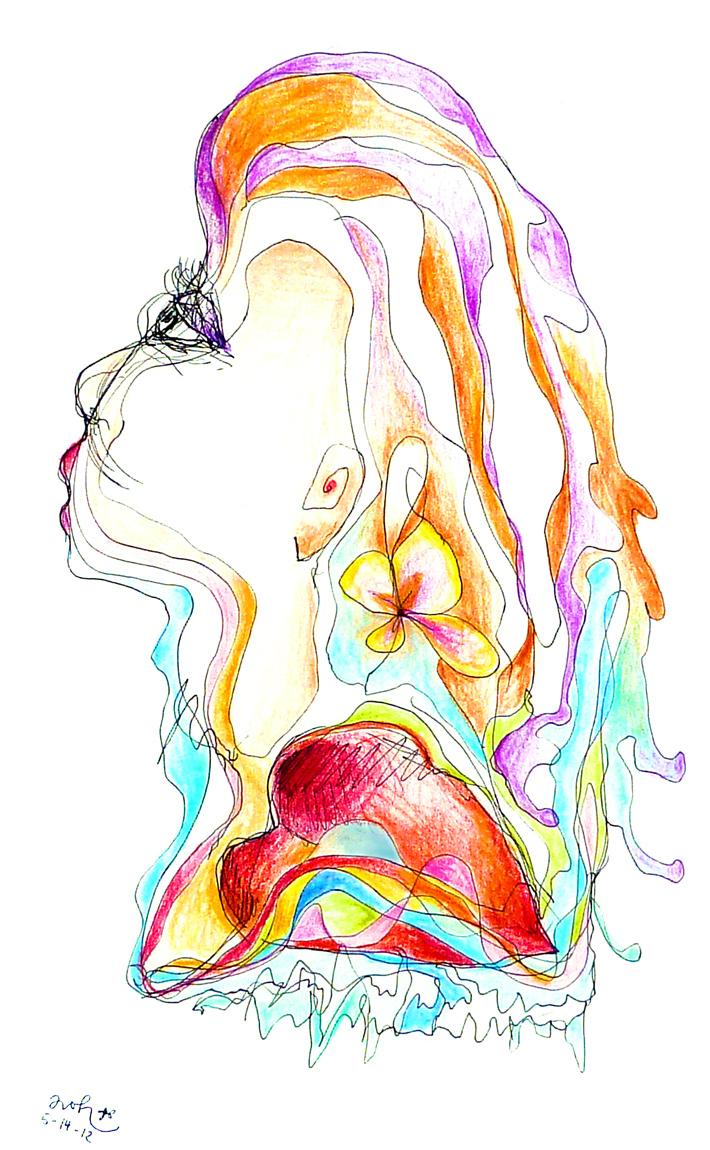 Receive A Personal Channeled Drawing From Awi
Are you curious what your soul wants to show you in this moment of time, where we all are asked to nurture our creativity, align with our life purpose, take self-leadership and move through great transitions in our lives and businesses to fully embrace life at its best?
Channeled Drawings can assist you to reconnect and open a conversation with your soul and inner leadership through their magical creative manifestation process. Through this process a mystical revealing process is initiated so you can receive creative guidance, inspiration and more clarity to embody your life purpose and/or business visions.
To deepen the mystical revealing from the Channeled Drawing, I additionally offer anchoring Integration and Creative Activation Sessions to embody the guidance received and to built the support in your energy field to assist your intentions with the transformation needed to clear your creative channel and accomplish the actions that are needed to fulfill your soul's and life's needs with more ease and joy.
If you like to get very practical then in a follow-up session I keep you accountable on your creative actions and manifestations.
Choose a package that suits your needs. I look forward to meeting you and excited to connect with your unique soul's expression.
Channeled Drawing Reading
• Original or Digital Artwork
• 30 min Reading
€ 222 *
Reading + Integration + Creative Activation
• Original or Digital Artwork
• 30 min Soul Essence Reading
• 60 min Integrative Alignment Session
• 60 min Follow-Up Mentoring Session (4-8 weeks later)
€ 444 *
* Please Read: Prices do not include German sales tax (no sales tax for US/Canada). If you like to receive the original art work you need to cover additional shipping costs. Payments are due upon booking and can be made via paypal, bank transfer, or transferwise.com.
Ready to see what reveals for you?
Send me an email with your inquiry here.
I look forward to connecting with you.
Want to see more of the drawings I created?
Watch me create a Channeled Drawing in this video below.
You will be accessing Youtube when clicking the »Play« button.
How does the Creative Channeling Process Look Like?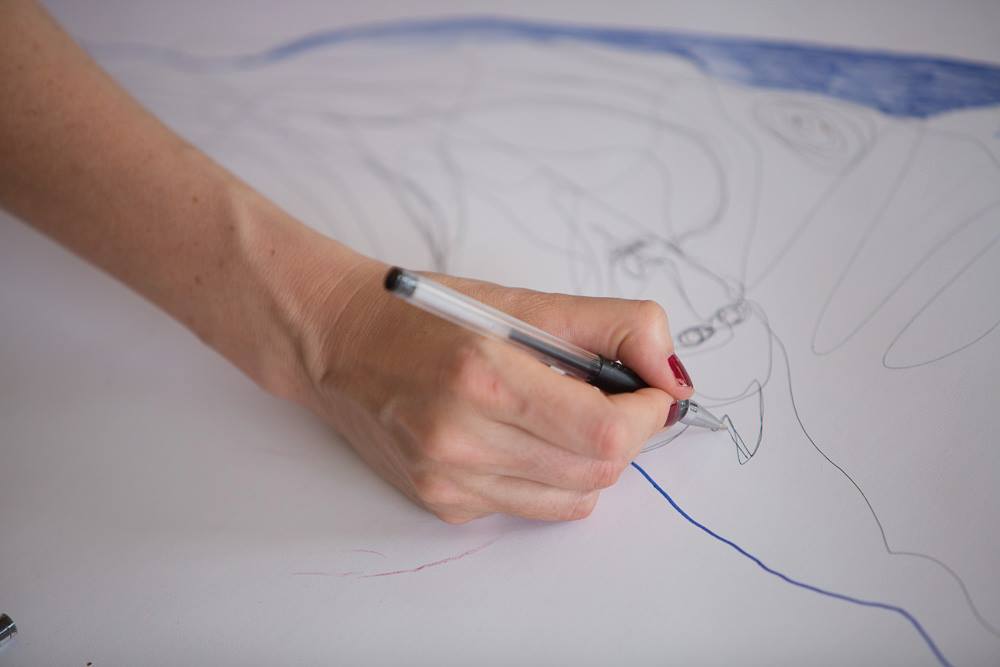 1. Contact me here to let me know what package you like to book and let me know if you have an intention or question for the drawing. If you don't have a specific question that is fine too. You'll receive what your soul / life wants to let you know right now.
2. You'll get an invoice from me and if your payments are settled I will initiate the drawing process as it manifests itself. Sometimes the energy starts flowing quickly and sometimes it may want to find a specific time. These can be useful clues that are connected to your specific reading intention or soul expression. So allow some time for me to receive your drawing.
3. When the drawing manifested I will send you an email with the JPG file of the drawing. You can let the drawing talk to you first before I share those messages with you that came through the drawing process. That way you can see for yourself first, feel into it and learn to trust your own guidance. Maybe a question arises that I can then answer in our skype session together.
4. When you are ready you are responsible to schedule your zoom session with me. In our time together we share our insights and receive a fuller picture for the guidance that comes through.
5. If you booked the Activation Package we will schedule your 2 sessions after the Channeled Drawing Reading. All sessions need to be booked within a 3 month period. After that your sessions will expire.
Note: The imagery both speaks in direct and symbolic ways. They might be archetypical or have a specific personal meaning to the channeler or the receiver (you). As I am the channel for you some of the symbols or images or lines are specific to my soul's language so I will share what they symbolize for me. However I encourage you to explore the meaning for yourself and I trust that your soul will understand the imagery and gets the messages that you need from the drawing. You are welcome to share what you discovered with me at any time and during our skype session often we get a fuller picture in the exchange of your insights. If you want to explore further we can also set up an additional guidance session to go deeper and clear some of the energetic blocks that revealed itself that lay in the way to your soul's expansion to become a magnetizing presence in life and career.
Receive Your Personal Channeled Drawing 
Let me know what option you are choosing.
What People Are Saying About Their Channeled Drawing Readings
» Awi's ability to express spiritual wisdom through her channeled drawings is incredible! I have had the honor of experiencing 10 channeled drawings and each one has deepened my awareness and opened me to understand my issues and challenges in nü empowering ways. I continue to enjoy the beauty and brilliance of Wibke's channeled drawings and I know I will for years to come! «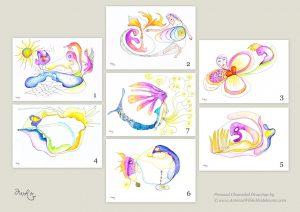 »I'm very very selective about who I will work with and hire. I hired you to do these drawings because I absolutely wholeheartedly believe in your unique gifts. You have the ability to purely channel visions and insights. I also have the ability to do this and so I can recognize it in another. I hired you to do these drawings for me because I wanted to open my own vision to see things from another pure perspective.«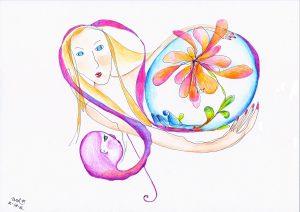 » Wow! Thank you Awi. It definitely has spoken to me and I am ready for your insights and guidance. I have been amazed at how many times I have had images in my real life that reflect the drawing in the last few days. Nursing my baby has reflected the "child" in the drawing. My five year old daughter put a ribbon on her head today that looked like the purple design around the hair…the list goes on. I am curious about every element of the drawing even the smallest details – there appear to be 3 waves, there is a purple line hanging down like a "j" by the image of the child….I am fascinated and excited to hear from you. Thank you.«
Merken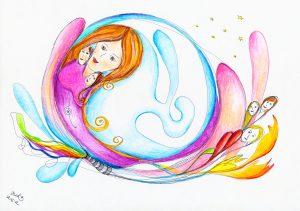 » Christmas 2012 was magical for my 3 sisters and me. In lieu of our traditional secret santa exchange, we each gifted ourselves with a personal channeled drawing by Awi and set aside some special time Christmas evening to share the drawings and insights. It was so powerful to see all four drawings and share the messages received. I highly recommend purchasing the option that includes a Skype session with Awi. She is wise beyond her years, compassionate, and empowering. She will encourage you to be with the drawing and draw your own insight, intuition, and knowing from it first. If you're anything like me, you will have questions! Talking with Awi live is not only a pleasure, it's an opportunity for deep exploration into your own essence–your own reason for being here on Earth. I LOVE my drawing and I am so happy I chose to receive the original artwork. It is proudly and prominently displayed in my home. I recommend Awi's work to anyone and mention again that it was a deeply meaningful and beautiful gift idea for a group.«
Merken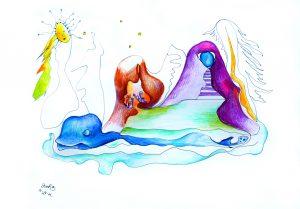 » I asked Awi to create a channeled drawing to explore the ideas and feelings surrounding my upcoming trip to China. I had no idea what to expect, but when I saw the finished drawing, I was astounded! Not only was it beautiful and colorful, the piece was like a glorious rainbow of visual language and symbolism. Throughout my month in China, I occasionally revisited my channeled drawing. It continued to speak to me, and day by day it proved to be an insightful framework for my experience abroad.
I also had the opportunity to speak to Awi via Skype while I was in China, and she and I each shared our interpretations of the drawing. This process was both valuable and fun, and really helped me to integrate what the drawing was communicating to me. It was a wonderful experience to receive this channeled drawing from Awi, and I would recommend it to anyone looking for a truly unique and inspiring insight into any aspect of their life! «
Merken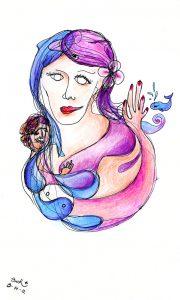 » Receiving a channeled drawing from Awi was so much more than I could ever imagined! The drawing is a visual presentation of my Creative brand, with all the components that are active and intertwined for me to share with the world. A Message from the spiritual realm. A love note from my soul to live out my mission on earth. ♥ I recommend doing the Skype package with Awi. She goes deep into what your core message to the world is! Wow!
So the part of me that I pushed aside, the most powerful part of who I am, the part that scares the heck out of me, showed up in the drawing. In fact, it's in your face, I cannot ignore it. It really affirmed me to move through with my vision in my business as a goddess and a "see-er"! …«
Merken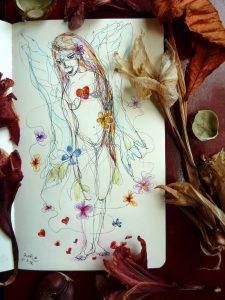 » Wow!!!!! – thank you SO MUCH for that precious, beautiful channeled drawing of my essence! I absolutely LOVE it! What a wonder-filled gift! … What beautiful energy with the lines and colours and all that manifested through you! «
» Awi is a magickal being of the Stars and the Earth… Her gentle, playful and serene nature is the perfect channel through which Spirit is able to convey messages in the form of insights, wisdom and beautiful soul energy drawings. Her channeled drawings are exquisite in form, colours and the depth of messages that they convey to the recipient… they always leave me in awe. I have absolute love for Awi as a soul sistar and on a professional level… her work is brilliant, pure and authentic! «
Merken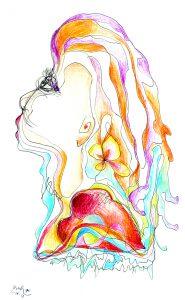 » I was deeply touched by the drawing and the spoken guidance I received from Awi: the resting of the heart, in the 5th chakra, the development of the femininity. On my current path of becoming an artist, of becoming more of me and bringing my singing and my whole heart to the world, it was a blessing to receive this, the support felt very profound. «
Merken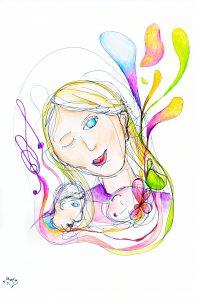 » The most surprising revelation for me was the appearance of my husband's image. It is him! He is very special to me, always supporting my dreams, encouraging me to soar, a grounding force in my life…so I was delighted to see him there…showing up as he does, a tremendous support system. I know all this to be true, so it wasn't really a new message as much as it was a confirmation that he is there as I move into a new way of being…and that Wibke picked up on it!
Being able to discuss the process with Awi amplified my interpretation of the image's message. Hearing her sweet voice was important to complete the work as it made the drawing that much more real…all senses engaged. Awi also led me to inquire further about what I noticed through your thoughtful questions.
I'd recommend anyone desiring to know themselves at their core to receive a channeled drawing. Awi's ability to beautifully + meaningfully capture in pen + color where I am at in my journey is remarkable + amazing. I'm so glad I gave myself this gift…a vibrant external expression that aligns with my path today perfectly. It's a great meditation focus, journaling prompt + valuable key to unlock pathways leading to greater self-awareness, confirmation, clarity.«
Merken
Ready to see what reveals for you?
Send me an email with your inquiry here.
I look forward to connecting with you.