Celebrating Cosmic Creativity
This channeled Drawing manifested last Thursday November 29, 2013 in my creative intelligence class while people in some parts of the world celebrated ThanksGiving and others celebrate Chanukkah and others like me were following the journey of comet ISON to rendezvous with the sun.
It's just amazing how events align on one day sometimes. Since I am doing my 30 Days of Gratitude posts I'm even more aware of the magic that unfolds everyday. ThanksGiving is celebrating this journey of gratitude and Channuka also celebrates the miracle of light. How amazing that ISON – a comet – meets with Earth's light and live giving source on that day. It's such a beautiful sign and inspiration for me taking the journey again diving into my own creative life force / passion and cosmic essence to nurture myself and others.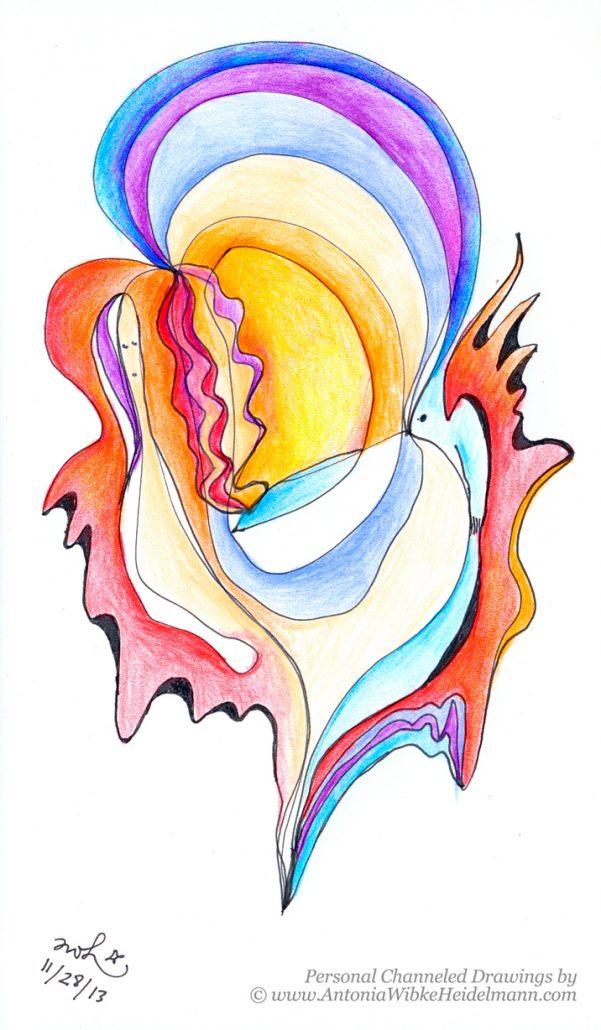 I found this amazing quote in a presentation of Alex Grey that summed up my heART's mission:
"Art is an echo of the creative force that births the galaxies. Creativity is a way that the cosmos evolves and communicates with itself" – Alex Grey
Watch Alex Grey's TED presentation and I hope you are as inspired as I am.
Merken
Merken
https://www.antoniawibkeheidelmann.com/wp-content/uploads/2013/12/131129_CD.jpg
1228
716
Awi
https://www.antoniawibkeheidelmann.com/wp-content/uploads/2022/07/Awh-Schriftzug-NEU.png
Awi
2013-11-30 14:31:01
2020-12-07 01:40:28
Celebrating Cosmic Creativity