Co-Creation & Magic Signs – Weekly Channeled Drawing May 20th 2013
Well this week's Channeled Drawing is abit unusual in every way as it manifested as a co-creation with my dear friend on top of the mountain "Katrin" in the wonderful Austrian alps after my expansive graduation week from the Barbara Brennan School of Healing.  It is a tradition to leave your name and some thoughts in a "peak book" (Gipfelbuch) which is on top of each mountain peak. So we decided to leave a channeled drawing up there on the last free page that was available. So here it is… (click to enlarge- sorry no color this time!) Only the sky painted along with some raindrops that came out of the blue sunny sky (talk about wonders)!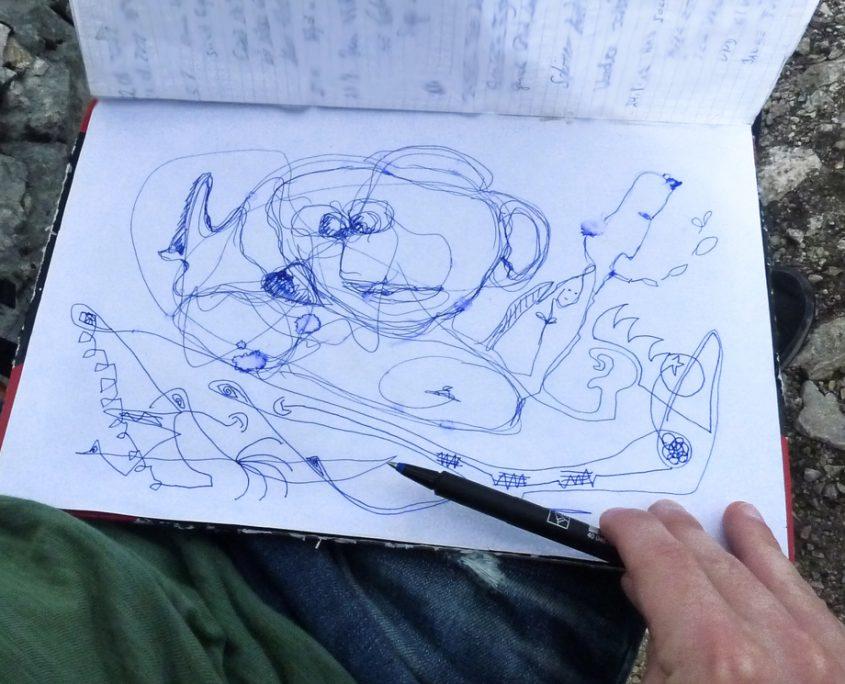 So this time there is no video reading for it but I would love to hear from you in the comments what you see and perhaps what it may reveal as guidance for yourself. I'm really curious to hear.
BTW to share more wonders: we saw a snake on our hike up and a buzzard (hawk like bird of prey) on the way down. Both animals are significant power animals. also I had lost my sunglasses on the way and felt a bit bummed but let it go and at the Alm waiting for the lift a man ran up to me (that had passed us before) and brought me my sunglasses ;)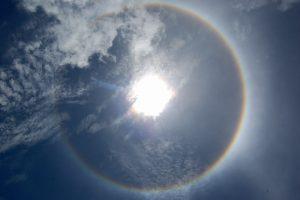 Back down in the valley we were surprised by a thunderstorm with hail to massage our heads (ahhaha) and to be gifted with a rainbow later. Since it was my graduation I had seen rainbows for 3 days each day and this was one of them. But the most magical one was a rainbow around the sun (halo) on our last day together. I've seen this kind of rainbow a few times always in the company of a dear soul friend. I feel the smirk of the rainbow and the heavens accompanying our journey with delight and magic.
So this week's inspirations for self-exploration
Who would you like to co-create with and what?

What significant signs and symbols showed up for you this week and how do they make you feel?
Love to hear your sharings in the comments.
Have a fantastic rest of the week.
with cosmic giggles,
W*bke
Merken
Merken
https://www.antoniawibkeheidelmann.com/wp-content/uploads/2013/05/sundog.jpg
532
800
Awi
https://www.antoniawibkeheidelmann.com/wp-content/uploads/2022/07/Awh-Schriftzug-NEU.png
Awi
2013-05-23 14:15:44
2020-04-07 20:50:09
Co-Creation & Magic Signs – Weekly Channeled Drawing May 20th 2013