Let's get together to create magic
It's that magic time of the year again.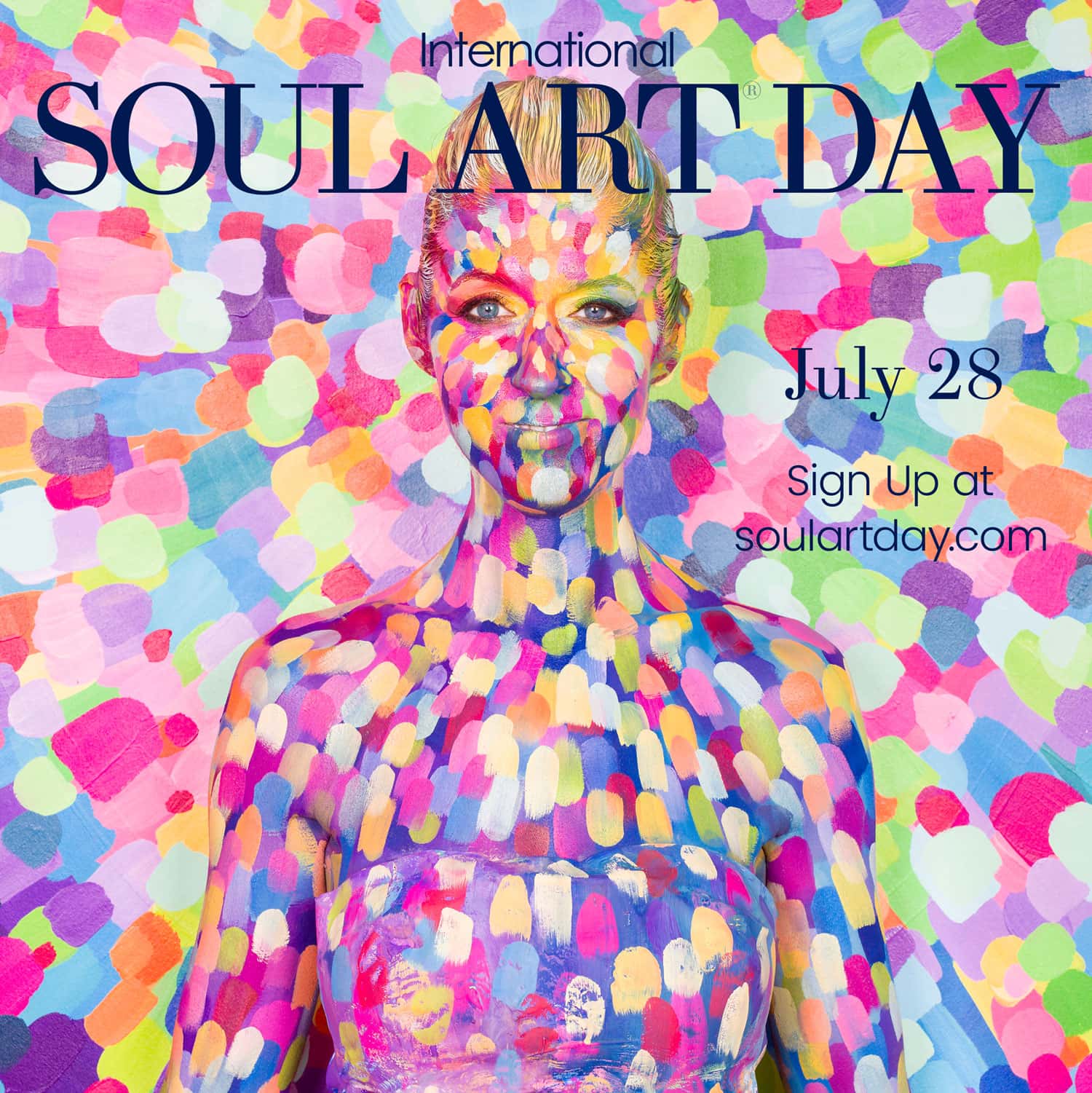 On July 28, 2022 Laüra Hollick is hosting her "International Soul Art Day" – when thousands of people gather from around the globe to create art together for the day. The vortex of energy that is stirred up on this day is palpable.  Through the energy of the collective gathering, everyone's creativity is lifted to new heights. It's extraordinary!
There is nothing better than the feeling of your soul's truth moving through you. That's why I love Soul Art Day…
You can join in for free when you sign up here: SoulArtDay.com
This year marks the 10th anniversary of #SoulArtDay and I had the pleasure to participate a couple times and even create in Laüra Hollick's Studio in Canada. I've taken Laura's courses in the 2010s and always loved her creative inspiration and guidance. I created over 2 dozen Channeled Drawings for Laüra personally, her business and SoulArtDay Groups over the years. I'm so grateful for our creative connection and modeling the way for artists to find a prosperous place in the world.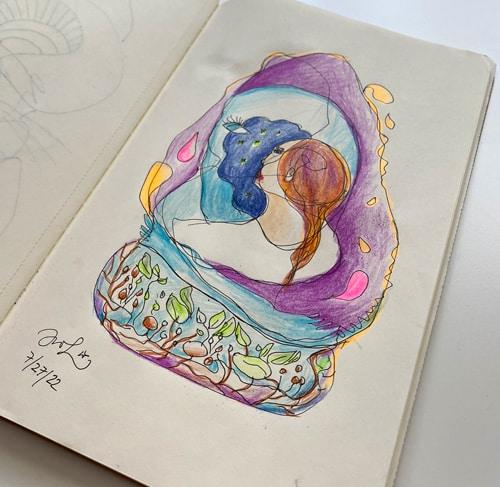 In preparation for the BIG DAY I'm getting the creative juices flowing doing another Channeled Drawing to tune into the energy of the BIG Day tomorrow. 
My pens are picking up a big face to face and embrace with a mysterious guide from beyond while sparking roots and new growth…
Well that does sound great, doesn't it? Watch the creative process here in this time-lapse video:
I will never forget my journey all the way from Hamburg, Germany to Hamilton, Canada to be live in the Soul Art Studio for Soul Art Day with Laura and 4 other amazing artists in 2015 as you see me getting body mapped in the picture below.
This year I will join Laüra in the Live Stream.
So you can watch me and a few other amazing artists like Outi Harma, Amadea Baily, Lucinda Ray, (in the picture below) and Shilo Sophia, Alexis Cohen and many others starting from 11:30am EST (Toronto) / 17:30 Berlin time on and create along side us.  When you sign up you get a guidebook and Laura will lead you life as well.
Body Mapping in Laura's Studio in Canada

Me and my life-size channeled drawing
The beauty of Soul Art Day is the fact that it doesn't matter where you are in the world, it doesn't matter how much or how little skill you have as an artist, it doesn't matter how old you are, it doesn't matter what your background is… All that matters is giving yourself permission to connect with your Creative Spirit and express yourself.
Give yourself permission to express your creativity without judgement, fear or perfectionism. This simple act of creative expression will change your life in the most profound ways. Join me, along with thousands of creative spirits, as we dive into the creative vortex of Soul Art Day to liberate our Inner Artist and download the next vision for our life.
Will you give yourself permission to show up for your Creative Spirit?
Over 10,000 Creative Spirits already sign up. Will you let yourself experience the magic this year?!
Get all the details and join us for Soul Art Day on July 28: www.soulartday.com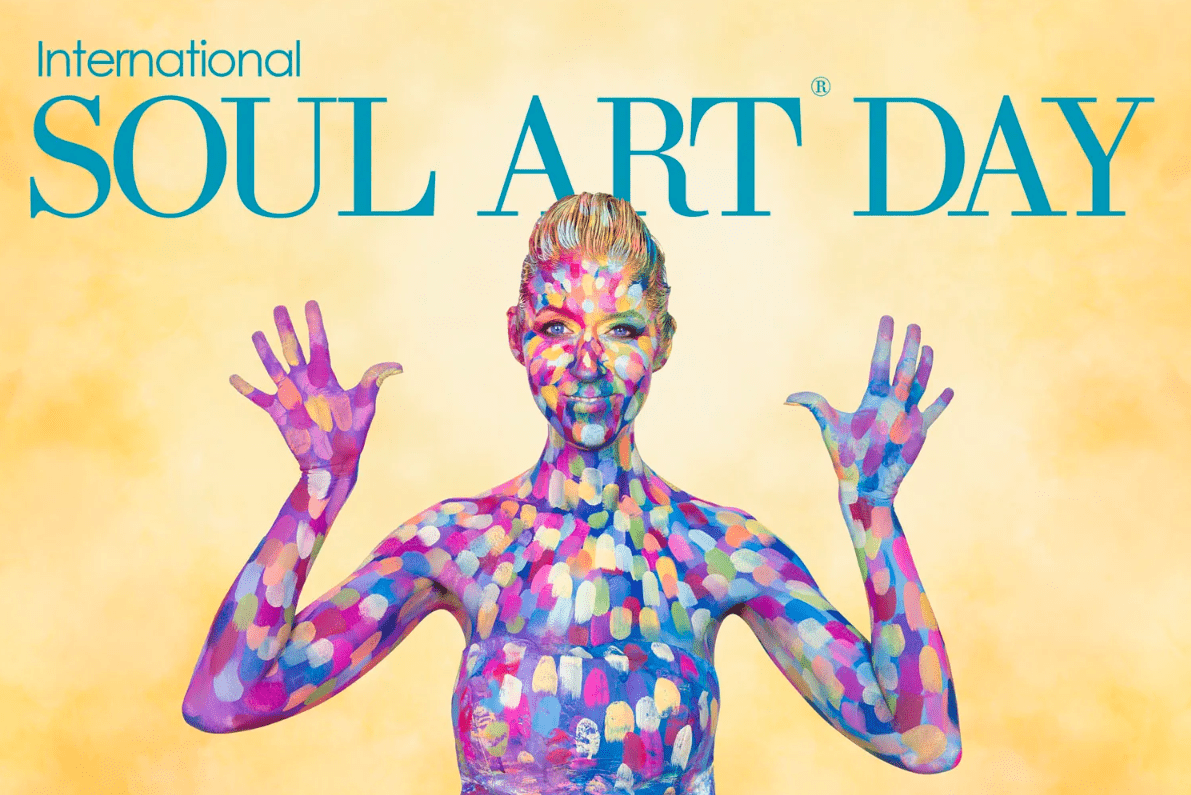 Laüra Hollick, the creator of Soul Art, will guide you through a simple Soul Art journey.  You don't need art experience to enjoy this incredible experience. All you need is the desire to express yourself, and the willingness to carve out sacred space for your unique creativity to flow.  You can work at your own pace for as long as little time that suits your Creative Spirit.
Let this be your door to pure inspiration…
See you in the creative vortex of Soul Art Day!
Sign up today: www.soulartday.com
https://www.antoniawibkeheidelmann.com/wp-content/uploads/2022/07/SoulArtDay22-ChanneledDrawing-sq.jpg
487
500
Awi
https://www.antoniawibkeheidelmann.com/wp-content/uploads/2022/07/Awh-Schriftzug-NEU.png
Awi
2022-07-27 15:16:18
2022-07-28 11:30:43
Let's get together to create magic