Riding the Sun Storm Waves – Weekly Channeled Drawing Guidance, August 19-25
Seems like this week's channeled drawing might point to the recent sun stroms and magnetic changes happening.
When I recognize on the woman figure a spot on top of her head over where that dark shadow figure is sitting. It reminds me of a picture I saw from the sun with a darker spot on top (can't publish it here but you can find it on the webs).
I feel alot of sun activity, transformations, transfigurations, frequency changes (see the black lines that look like sound wave visuals!). Sound healing might be very effective if you suffer from the effects of solar flares like headaches, messed up sleeping patterns, sickness, flu, eye problems and such.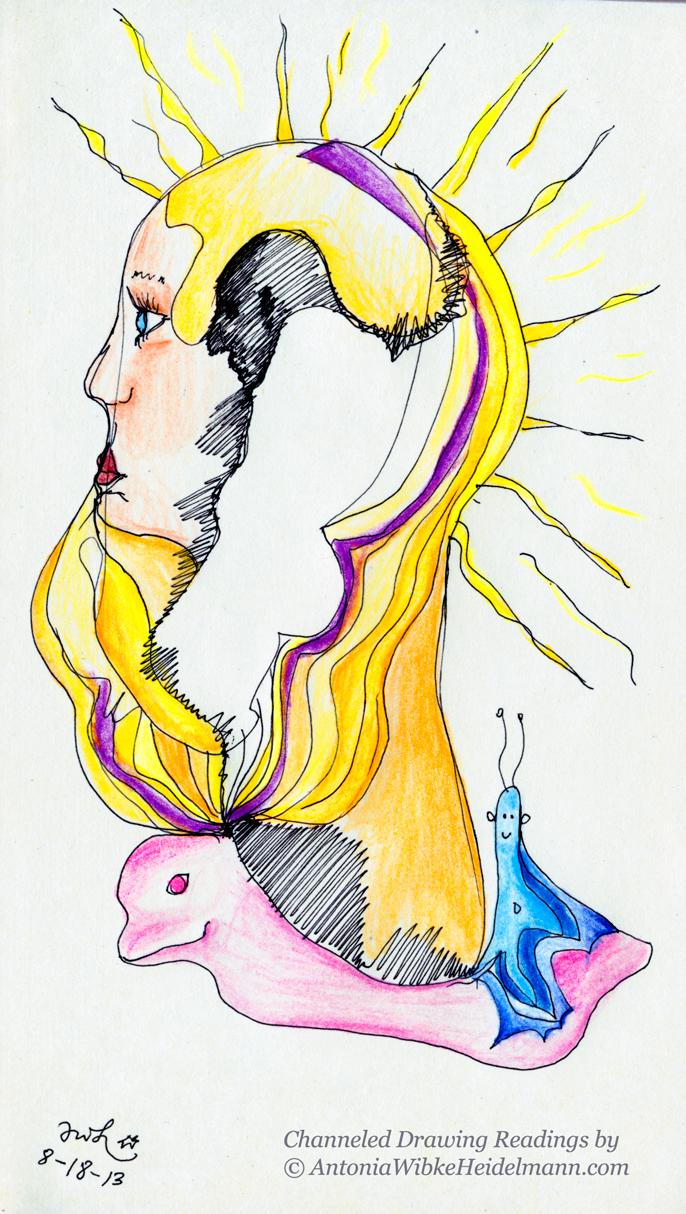 So what about that rosy slug or transfigured dolphin and the little blue being?
Well the "base" of all changes is for more love to come through… to ride on the wave of love and the dolphin as well as the rose color symbolize "love". The little blue figure for me looks like a butterfly (a symbol of transformation) and at the same time it looks like a little alien friend of mine. He's bringing greetings from my galactic family… cheering us in the process of intense transformations that are happening right now on this planet and in our lives.
So no matter what shadows will appear this week in the process … try to feel the love that is beneath it all and ride the waves with as much joy as you can. It's not as serious as you think it is. We are supported in our journey to shine our love in its purest form.
Listen to amazing sound channels like Tom Kenyon, KellyRose Zuvuya and many others. I will be recording my own in the coming week. So check back here if you like.
Wishing you a bright new week.
Take good care of yourself and sing no matter what.
with cosmic giggles,
W*bke
Merken
Merken
Merken
Merken
Merken
https://www.antoniawibkeheidelmann.com/wp-content/uploads/2013/08/WCD19_Aug18.jpg
1214
686
Awi
https://www.antoniawibkeheidelmann.com/wp-content/uploads/2022/07/Awh-Schriftzug-NEU.png
Awi
2013-08-19 15:00:04
2020-04-07 20:51:42
Riding the Sun Storm Waves – Weekly Channeled Drawing Guidance, August 19-25